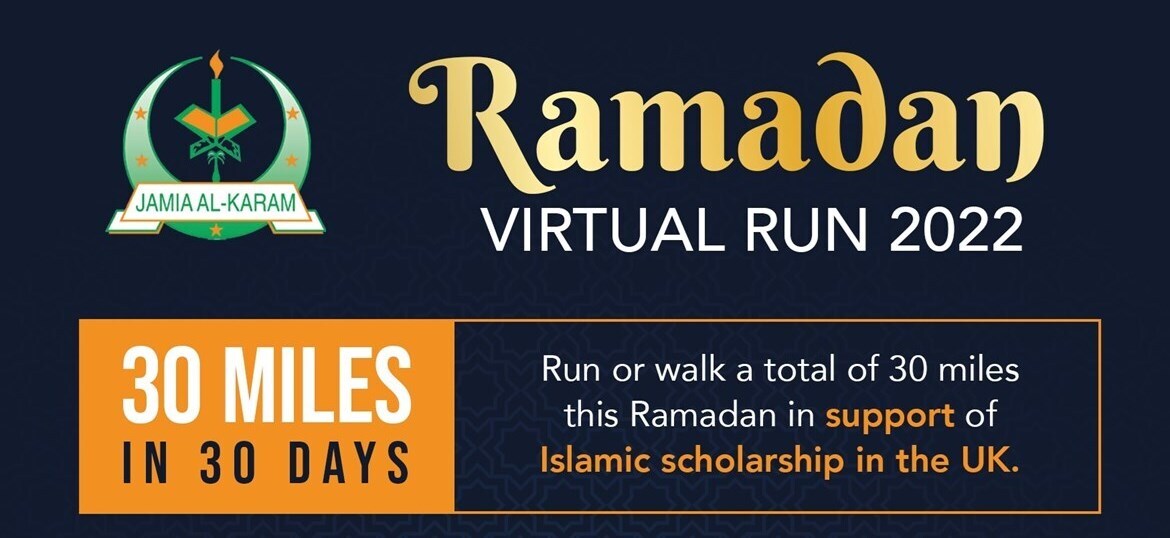 Event date

Sat 2nd Apr

-

Mon 2nd May 2022

Location Anywhere
The Sublime Messenger Muhammad (peace be upon him) said, 'Your body has a right over you.' (Bukhari)
This Ramadan just as we work on our spiritual health lets also improve our physical health and become strong believers both spiritually and physically.
The Challenge: Run or walk a total of 30 miles this Ramadan in support of Islamic scholarship in the UK. All you need to do is sign up and then using the STRAVA app (or any other fitness app) cover the distance of atleast 30 miles in Ramadan. That's just 1 mile a day and you can do that as part of your daily exercise, walking at home, or even going for a pre-iftar run. You can track and share your daily progress on your personal fundraising page and see if you can reach the top of the leaderboard. A fun way to get fit and healthy whilst also supporting a great cause.
On completion of this challenge you will receive a complimentary copy of the latest publication authored by Shaykh Pirzada. Together we will be raising funds to support Islamic scholarship in the UK.
About the cause: Since its humble beginnings in 1985 Jamia Al-Karam has served the British Muslim and wider community through knowledge, education and scholarship. Hundreds of British Imams and male and female Islamic scholars have graduated who today serve in various capacities up and down the country, for #LearnAndServe has been at the heart of Jamia Al-Karam.
The institution caters for the educational and social needs of British Muslims. It aims to produce scholars of Islam who are aware of the challenges of the modern era and have a sound understanding of Islam as well as a reverence towards Islam's glorious past, tradition and heritage.
By donating £100, you can cover the cost for one week for a student of knowledge at Jamia Al-Karam.
Become a sponsor of scholarship today!
For any queries email: [email protected] or message on instagram @JamiaAlKaram
Jamia Al-Karam is a registered UK charity (No. 1119056).
Fundraising updates
5 posts
100%
of target reached!
Fundraising complete, Ramadan Virtual Run 2022 has reached 100% of the target!
75%
of target reached!
Almost there, Ramadan Virtual Run 2022 has reached 75% of the target!
50%
of target reached!
Halfway there, Ramadan Virtual Run 2022 has reached 50% of the target!