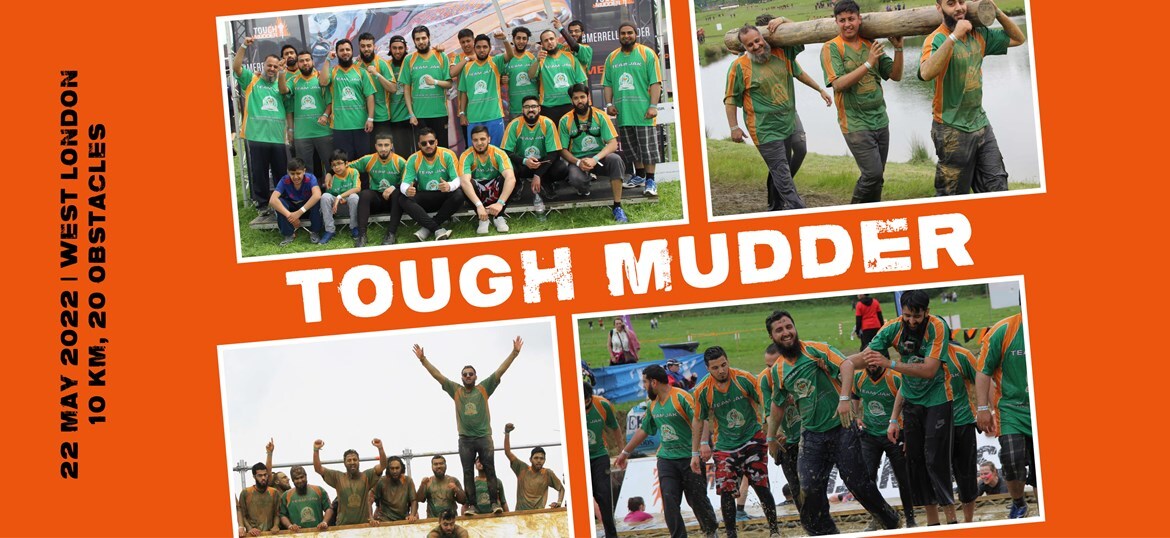 Event date

Sun 22nd May 2022

10:00

Location Culden Faw Estate

Henley-on-Thames

RG9 3AS

United Kingdom
ARE YOU BRAVE ENOUGH TO TAKE ON THE TOUGH MUDDER CHALLENGE?
Join Team JAK to take on the legendary Tough Mudder 10K, the world's best mud run obstacle course. Sign up now for a tough but enjoyable action-packed day and support a great cause.
For brothers only and limited spaces so register today to avoid missing out.
Together we will be raising funds to support Islamic scholarship in the UK.
About the cause: Since its humble beginnings in 1985 Jamia Al-Karam has served the British Muslim and wider community through knowledge, education and scholarship. Hundreds of British Imams and male and female Islamic scholars have graduated who today serve in various capacities up and down the country, for #LearnAndServe has been at the heart of Jamia Al-Karam.
The institution caters for the educational and social needs of British Muslims. It aims to produce scholars of Islam who are aware of the challenges of the modern era and have a sound understanding of Islam as well as a reverence towards Islam's glorious past, tradition and heritage.
Not sure what a Tough Mudder is? Watch our vlog below from last time.
By donating £100, you can cover the cost for one week for a student of knowledge at Jamia Al-Karam.
Become a sponsor of scholarship today!
For any queries email: [email protected] or message on instagram @JamiaAlKaram
Jamia Al-Karam is a registered UK charity (No. 1119056).
Fundraising updates
5 posts
100%
of target reached!
Fundraising complete, Tough Mudder has reached 100% of the target!
75%
of target reached!
Almost there, Tough Mudder has reached 75% of the target!
50%
of target reached!
Halfway there, Tough Mudder has reached 50% of the target!